5 Fun Ways to Help Animals Using Your Smartphone

We love our SmartPhones. We use them all the time, wherever we go! And one of the things we love most about Smartphones? Our apps! Candy Crush, Words With Friends, Angry Birds, you know them all. But what's great about apps is that while they are fun, they can also help out animals.
So what are some fun and unique apps that give you a chance to help out animals across the country? Here are five of our favorites!
1. Walk For a Dog
What if I told you there was a way for you to walk your dog, exercise, AND help out animals all at the same time? That's exactly what you can do with the app "Walk for a Dog" by WoofTrax, Inc.
Every time you walk your dog, WoofTrax, Inc donates to a shelter or rescue organization of your choice. Last December and January, they sent donation checks to 4,500 rescues and shelters across the United States. In the last year, they have raised over $120,000 for their shelter and rescue partners. They donate 11 to 25 cents per every mile you walk with your dog.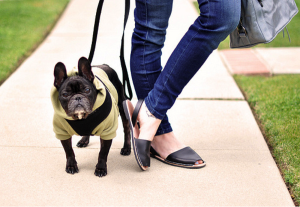 The best part of all, it's completely free to download. Next time you take your dog for a walk, make sure you "Walk For a Dog!"
2. AllPaws
We've all heard of Tinder. Swipe right if you like, left if you don't. But who would have thought Tinder would one day be filled with furry friends instead? AllPaws is a Tinder-like app that helps you find the perfect pup (or a variety of other animals).
AllPaws has over 200,000 animals – such as dogs, cats, horses, sheep, birds, pigs, and reptiles – and filters them to the user's settings. The app has a messaging feature that puts you in direct contact with the animal's shelter or owner.
The app features over 120,000 dogs and is completely free for download.
3. Weather Puppy
Checking the weather is something we all do every day. It's pretty standard and routine. But with this app, you can check the weather and get a different adorable dog on your screen every day.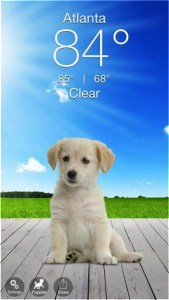 Weather Puppy gives you the weather for the day and features adorable puppies to boot. It comes with two free themes, outdoorsy and glamour, and special themes like Halloween can be purchased for $0.99. Another cute feature of Weather Puppy is that the dogs' poses change based on the weather. If it's a sunny day, expect to see a pretty Pomeranian wearing shades. If it's cold, expect to see a shih tzu snuggled in a blanket.
Weather Puppy is partnered with many nonprofits and shelters all around the world. The app enables dog-related charities to fundraise using the platform. Check out the weather and a cute puppy for free – and for a good cause!
4. Inspire
With an amazing app from the Animal Rescue Site, it's possible to help feed shelter animals and read beautiful, uplifting animal stories.
The app is called Inspire. Every day, you can view inspiring animal stories. The first story I saw was a about a cat welcoming her soldier home from a day of drills – with an adorable accompanying video. After you are done reading, you click "Tap to give!" at the bottom of the screen. When you tap, a donation of food is generated for shelter animals. You can give three taps a day, and the app tracks your lifetime taps and how much food you have given to shelter animals.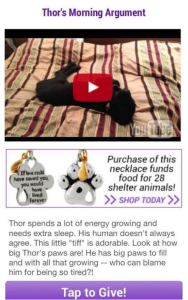 As of September 5, 2015, everyone's taps have generated 5,465 meals for animals in need. The app is completely free for download.
5. Dog Quiz Game
For only $0.99, you can test your knowledge of dogs in a fun trivia game, while contributing to animal wellness.
Michael Hasbrook has designed The Dog Quiz game to test your skills and provide you with a fun way to give back. The Dog Quiz Game is a two-level quiz; once you are done, you can post your scores on Facebook and try to outscore your friends. All proceeds from the app go to Montana's Precious Gold, a golden retriever rescue based in Montana. Montana's Precious Gold is a small rescue group that gives golden retrievers in Montana and the surrounding area another chance in life.
So there are a few of our favorite smartphone apps that give back to animal related causes! Did we miss any? Leave a comment and let us know!