10 of the Most Memorable TV and Film K9s

There are countless TV shows and movies that are either about dogs or have been made more entertaining because of dogs. From teaching us valuable life lessons to making us laugh to just being cute, there are many dogs that took over our screens and stole our hearts. Let's face it, whether it's reality or fantasy, dogs just make everything better!
So who are some of the most memorable famous dogs in TV and film? Here are 10 of my favorites!
Clifford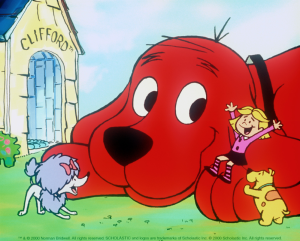 Picture via whyy.org
The idea of a big, fire-engine-red dog might sound strange. But not if it's Clifford. With his owner Emily, he has fun adventures and captures the hearts of children everywhere. Clifford is the book world's largest, most lovable dog. 
Snoopy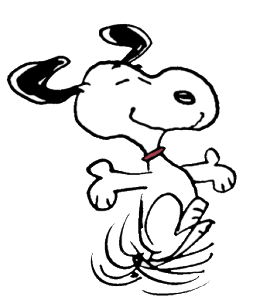 Picture via peanuts.com 
Charlie Brown is often a nervous, troubled character who has issues with self confidence. But he has a best friend who doesn't care about any of that: a dog named Snoopy. Snoopy is an amazing example of unconditional love. Plus, he has an incredible imagination.
Lassie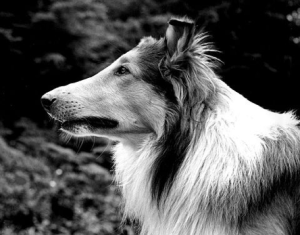 Picture via en.wikipedia.org
When you think of favorite dogs, you can't help but include Lassie. She's a classic! Collie dogs are notorious for being smart and Lassie was no exception. She was also a caring and responsible pup. What else would you expect from a dog who rescued her humans from danger and set out to right wrongs?
Blue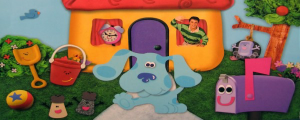 Photo via behindthevoiceactors.com
Blue's Clues was one of my favorite cartoons as a little kid, right next to The Big Comfy Couch. I have "the thinking chair" song memorized even to this day. And Blue, the lovable dog protagonist, was my favorite part of the show. Whenever she left her paw prints somewhere, I knew a fun, educational adventure was about to begin.
Brian Griffin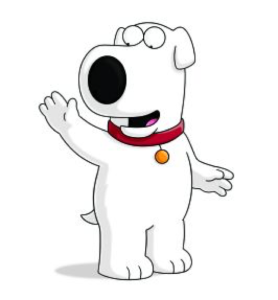 Photo via Family Guy Wiki
Family Guy is definitely my "guilty pleasure" show. And Family Guy wouldn't be nearly as funny without its lovably sarcastic dog, Brian. Brian is a struggling writer and actor with a good heart, even if he doesn't always act like it.
Toto
Photo via tumblr
When I was two, I fell in love with The Wizard of Oz. For a solid year, I wore nothing but my own pair or sparkly red ruby slippers. To this day, it's still my favorite movie. My favorite part of the movie? Dorothy's adorable terrier, Toto. No classic movie is complete without a classic dog.
Scooby Doo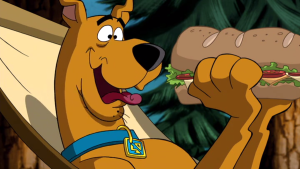 Photo via scoobydoo.wikia.com
Scooby Doo was another TV show I couldn't get enough of as a kid. And I loved Scooby Doo. I loved his funny way of talking, how adorable it was that he was scared of everything, and how he ate everything in sight. Scooby Doo on Zombie Island was one of my favorite movies. Even today, I find Scooby Doo hilarious and appealing, and he is one of my favorite TV dogs.
Old Yeller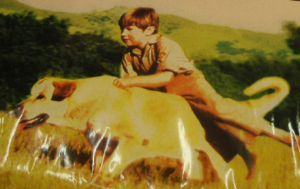 Picture via Joel Kramer (modifications made)
Old Yeller is another classic dog you can't help but love. While he could be tricky, his intelligence, loyalty. and willingness to protect his family in spite of danger to himself made him a hero. Old Yeller teaches you to appreciate and love your family, which is a lesson we can all afford to be reminded of from time to time.
Spike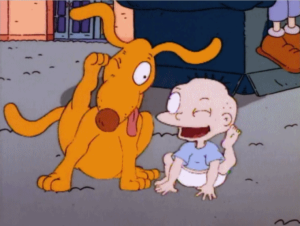 Photo via Tumblr 
The other day, I saw "Rugrats in Paris: The Movie" on Netflix, and decided to take a walk down memory lane. In doing so, I rediscovered my love for Tommy's dog, Spike. Spike is spunky, loving, and completely adorable. He's a wonderful friend to Tommy and all the other babies.
Wishbone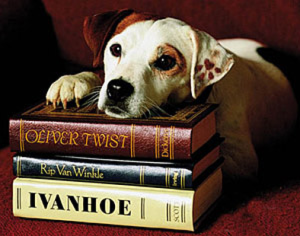 Picture via tvtropes.org 
I saved the best for last.
A little dog with a big imagination, Wishbone is a lovable Jack Russell Terrier who spends all his time living in a fantasy world where he plays main characters in literature. Sherlock Holmes, Romeo Montague, Odysseus, Hercules. You name it, he's been it. As a little girl who loved to read and live in my own fantasy worlds, Wishbone would be my best friend. And as an adult who still loves to read, he is my favorite dog in fiction.
What do you think of my picks? Who are some of your favorite fictitious dogs? Let me know in the comments!