5 Halloween Costume Safety Tips for Pets

With Halloween right around the corner, people everywhere are searching for the perfect costumes! Costumes aren't just for people. Pet owners love to dress their four-legged friends as well. But many pet owners don't realize the dangers that could come with dressing up their pet.
If you want to dress your fur baby for Halloween, here are 5 tips to keep in mind.
1. Costumes Fit
Making sure a costume fits is very important. Movement should not be restricted and nothing cover your pet's mouth, eyes, and ears. If a costume is too small it could cut off circulation and cause breathing problems. If a costume is too big it could get caught on external objects and may Let your pet try on the costume before Halloween so they can become accustomed to it. twist and injure the pet. Make sure the costume isn't too long so your pet doesn't trip. Keep in mind your pet may also need to use the bathroom when wearing their costume.
2. Check for Choking Hazards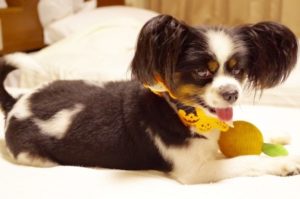 Buttons, tassels, beads, and bits of fabric are only a few things your pet could choke on. Anything too tight around the neck can cut off the airway; and anything too loose around the neck could get stuck and cause choking. Watch these items and any other potential choking hazards.
3. Keep it Simple
Your pet will let you know if they dislike the outfit by whining and trying to get it off. If a costume is too heavy or thick it can make your pet tired and cause them to overheat. Your pet doesn't need to be in full costume. You can opt for a simpler outfit, like a decorative collar, ribbon, or bandana.
4. Wear Bright Colors
If you are taking your pet outside, make sure they are not only on a leash but also wear bright colors. It will most likely be dark outside so if you and your dog happen to get separated, bright colors will help you find him or her faster. Wearing something reflective will also help your dog to be seen by drivers.
5. Wear Proper ID
It is important your pet is well identified. ID tags should be up-to-date with your current information. Microchipping is another way to help your pet if they get lost.
Halloween is a fun time of the year and you can include your pet in the festivities. There are so many options when it comes to costumes. They can look super cute, but may cause problems for your pet. Keep their safety in mind so you and your pet can have a safe, festive Halloween!
How do you keep your pet safe during Halloween? Leave a comment and let us know!
Featured Image Credit: DaPuglet (modified)