"Where Love Never Grows Old:" Old Friends Senior Dog Sanctuary

Welcome to Featured Rescue Friday! This week we are featuring Old Friends Senior Dog Sanctuary, a Forever Foster Home based Sanctuary in Mount Juliet, Tennessee.
Senior dogs face a higher risk of being euthanized in animal shelters. Many people worry about the costs of unexpected vet bills and their shorter life expectancies, so older animals often go unadopted. In a recent survey by Petfinder.com, it was found that senior pets and those with special needs took nearly four times as long to be adopted– if they were adopted at all.
Old Friends Senior Dog Sanctuary was started as a way to combat these statistics and provide safe and loving homes to more of these animals. As their mission states, "we strive to find them forever foster homes where they can live out their retirement years as a loved family member."
Old Friends Senior Dog Sanctuary was started in April of 2012 by Zina Goodin and her husband, Michael. What started off as an initial interest in rescue soon grew into their own non-profit organization. After taking the opportunity to rescue several of their own senior dogs from a local shelter, they recognized the need for these wonderful animals to find their own forever homes.
When you take home a senior dog from OFSDS, they provide you with an overwhelming amount of support. They take care of all of the veterinary bills and other basic needs to take the financial burden off of your shoulders and to ensure that you and your pet have everything you need. The only cost required of the foster family is high quality food which is recommended by the sanctuary.
They also ensure that the dogs will always have a home. If, in the event that you take in one of the dogs and things don't work out, they will take the dog back to the sanctuary and continue to look for a family to take them in. None of the animals are ever in danger of being euthanized due to not being fostered.
Not only is their goal to provide more aging dogs with loving homes, but they also strive to educate the world on the advantages of taking in a senior pet. In 2012, Zina set up the Sanctuary's Facebook page and since then the page has become an internet sensation. Currently, they have over 1.5 million followers and thousands of people like, comment, and share photos of their dogs every day. They have not only provided senior dogs with loving homes, but they've also managed to create a positive, inspiring community on the internet.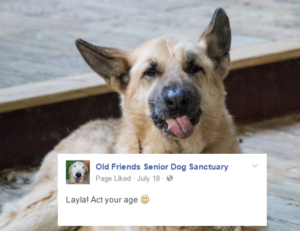 Currently, they have about 50 dogs in their sanctuary and over 150 more that have found their lifetime homes. They frequently post pictures onto their Facebook page and their followers (myself included!) love keeping up with the crazy antics of these adorable dogs.
They receive support from all across the world and are inspiring millions of people to adopt–or spread the word to adopt–senior pets. "We do not concern ourselves with the quantity of time that they have left, rather the quality of the life that we can provide them for that time," the website proudly displays– and they are spreading that message of love to others one adorable Facebook picture at a time.
If you live within 100 miles of the Nashville area, you can become a forever foster parent to one (or more) of their wonderful dogs, but they also accept donations. I would also highly recommend following their Facebook page for daily doses of happiness.
All photos courtesy of Old Friends Senior Dog Sanctuary Facebook Page