Embracing the No-Kill Mentality: Furkids Animal Rescue & Shelters
Welcome to Featured Rescue Friday! Today we are highlighting the outstanding rescue, Furkids Animal Rescue & Shelters!
Over 10 years ago, a woman named Samantha Shelton found a stray mother cat with kittens. She was unable to find a shelter that would take them. In response, she created what would become the largest animal rescue and no-kill shelter system in the Southeast: Furkids.
Furkids has rescued more than 15,000 cats and dogs since its inception in 2002. They have partnerships with several Petsmart locations as well as PETCO. They established two thrift stores, the profits from which go to the care of their animals. They opened a stand-alone facility dedicated exclusively to FIV+ cats.  They have over ten shelters and even received a commendation letter from Governor Sonny Purdue on their success and important service to the community.
In short, thanks to one woman's vision, Furkids is doing amazing things.
Their mission is "to help end pet overpopulation in Georgia through sterilization, high-quality adoption and by providing valuable spay/neuter services and pet care education to people in the community." Their facilities are no-kill and cage-free. Today, approximately 1,000 animals are under care in the Furkids system.
Furkids has several volunteer opportunities for people of all ages. They need volunteers for a variety of needs, such as
Volunteers for the main cat shelter
Volunteers to help at their thrift store
Volunteers for dog transportation and more!
They also always need volunteers for foster parents. In addition, just donating gently used home items to the thrift store can be a huge help.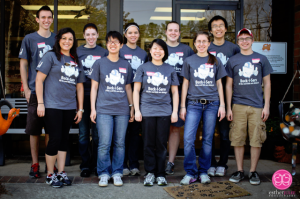 Students from Ohio State volunteering with Furkids. Photo via Furkids.org
To find out more about Furkids, including volunteer opportunities, check out their website at Furkids.org.