Smart Home Technology Every Pet Parent Needs
Smart home technology is getting more affordable and more accessible every year. There are many amazing home tech gadgets on the market, including those that allow us to interact with our pets while we're at work or at home. From encouraging play, to reducing anxiety, smart home pet products are not only fun to use, they're helpful too!
Check out these 7 pet tech products that can improve the wellbeing of your furry friend.
1. The RolliPet
It's easy to feed your pet too much, especially if they 'seem' hungry or you forget you've fed them already. But with the RolliPet smart food dispenser and app, you can automate your pets daily allowance and even set the time of day so you don't forget. As pet gadgets go, this is incredibly handy if you happen to be away from the house. There's also a camera so you can see them chowing down happily.
2. Petnet's SmartBowl
Another of the smart home pet products that monitors feeding is Petnet's SmartBowl. This is designed for cats and small dogs, with a bowl capacity of 2 1/2 cups of pet food. The bowl has guide lights so you only fill the right amount each time. The app sends you reminders for when it's time to feed your pet and you can create a profile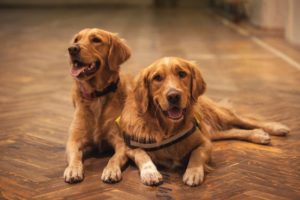 for your pet online.
This one of the cheaper home tech gadgets if you're looking for ways to reduce pet costs.
3. Furbo Dog Camera
Miss your pet and want to check up on him when you're at work? Now you can with the Furbo Dog Camera. Smart connected devices such as the Furbo are incredibly popular with dog owners. They allow you to remotely toss your dog a treat, as well as take a photo or video so you feel more connected.
A great feature of the Furbo is that it has a bark sensor which sends an alert to your phone so you can check up on your dog. A two-way talk function lets you communicate with them if you need to.
4. Eyenimal Cat Videocam
Cats are a bit more elusive than dogs, but there are smart home pet products for cats too if you want to keep tabs on them. The Eyenimal Cat Videocam is a small GoPro-style camera that attaches to your cat's collar and records video when your cat is on the prowl!
5. GoBone
If your dog loves playing with toys then they'll love the GoBone. This is an automatic toy (shaped like a bone) that moves around to entice your dog to interact with it. Once it detects interaction it goes to sleep. Your dog can chew, toss or squeak it as much as it likes. When your dog is done playing it it wakes up again.
The GoBone is great for energetic dogs that still have energy to burn after a long
walk! You can also play with your dog if you're not in the house by moving the GoBone with the app.
6. The SHRU
Cats have also been thought of when it comes to toys. The SHRU is an intelligent companion which keeps your cat from getting bored when you're not around. The SHRU looks like an egg with a feather sticking out of it but it rolls and twirls like a small animal. Cats can't resist stalking, pouncing and jumping on it.
Simply turn it on before you leave the house and this pet gadget is sure to keep kitty entertained. Watch this video of the SHRU in action.
7. ZenCrate
The ZenCrate is an invention that takes smart home technology to a whole new level, and it's for dogs not humans! Designed for anxious canines that don't like thunderstorms and fireworks displays, the ZenCrate calms them down by playing music and keeps them cool by running a fan. It also uses noise canceling technology, so your dog isn't as affected by the loud bangs and pops.
You can check up on your dog's wellbeing through a 'crate-cam' and the crate sends you text message alerts when the crate is being used.
These pet gadgets are just a few of the smart connected devices that can make your life easier when it comes to feeding, playing and taking care of your furry companion. There are new ones being developed all the time, so watch this space!
This post is a guest post from Angela Pearse. Angela is a blogger for Zumper who frequently combines travel with freelance writing. She's passionate about Art Deco hotels, historical novels, Netflix, hiking and healthy living.