How Your Organization Can Receive Donations from Sitting for a Cause

Over the past year, we've received many inquiries about how our users can designate where the donations from their jobs go. Up until now, we determined as a company where the profits would be sent based on rescue and shelter partners we have worked with. In 2018, we are excited to announce that we are changing that!
We have officially launched our new Referral Organization Partner Network. Here's how it works:
If You are an Animal Rescue or Shelter Organization:
Send us a message using the contact us page on our site to let us know you are interested in being part of our referral program.

Based on your preferences, we will send you digital or physical copies of information about Sitting for a Cause you can share with your adopters and supporters to encourage them to use a Sitting for a Cause sitter the next time they need care for their pets.

For every pet parent you send us that completes a booking through Sitting for a Cause, your organization will receive the donation we make from that booking (50% of the commission fee profits our website collects).
If You are a Pet Parent Who Wants to Designate Where Your Booking Profits Go:
Send us a message using the contact us page on our site to let us know which animal rescue or shelter you'd like to see receive the donation from your booking.

We will contact them to see if they are interested in joining our referral program.

If they agree to join our network, we will let you know!
So how do we keep track of where the donations go? We've added in a section in each Pet Parent's profile where they can share which network referred them: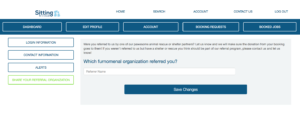 We are excited about the potential to learn about and work with new rescues and shelters in 2018! If you have any questions about this program or suggestions on how to better it, please leave a comment and let us know.